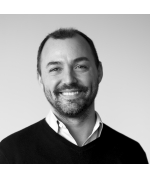 Dr. Ir. Arch. Alexander Suma
Persoonlijk profiel
Alexander is a pioneer in sustainable innovations, expert in building integrated renewable energy solutions, and an experienced business leader in the start-up arena with the drive to contribute and accelerate the most essential transformation of society: the energy transition.
Alexander found IBIS Power in 2012 after he successfully delivered another start-up. Next to leading the business, he is the chief innovator of several patented green technology innovations. His main invention PowerNEST is a ground breaking solar and wind combined renewable energy solution for high-rise buildings being the first and only solution able to make 10 level building Net Zero Energy, and improving the current state-of-the-art with a factor 6. This innovation gained 18 prestigious innovation awards juried by i.e. NASA, US-DoE, US-DoD, Rabobank, Engie, and has received numerous Dutch and European grants. He has brought IBIS Power in the EU-Champions League of SME's, was listed #8 of most promising global Cleantech innovations by Built Worlds (Tesla was #7), and was recognised as 2018 Best Green Technology Innovations Company of Europe & Most Advanced Wind & Solar Energy Solution: PowerNEST by Global Energy News.
Alexander believes in life long learning through both continuing education and field experience. He holds degrees from International institutions in Construction Engineering (BEng), Structural Engineering (BSc, MSc), Architecture (MSc), Civil Engineering (PhD), ESADE Business School and senior executive leadership trainings, and combines his backgrounds to challenge the status quo and create renewable energy innovations with the potential of massive global impact. He has experienced both success and failure in leading innovations and startups, and has used these experiences to sharpen, learn, rethink, and improve himself in business and as a person.
Verder lezen
Interesses
Contactinformatie