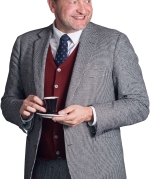 Bert Deen
Persoonlijk profiel
L.G. (Bert) Deen is a Chartered Valuation Surveyor at Dynamis Taxaties Nederland (DTN). As one of the largest Dutch valuation
agencies, DTN serves a wide range of clients in the real estate sector. Bert Deen is the first in the Netherlands to include a
sustainability chapter in all his valuation reports. Last year this chapter became the standard in the Netherlands.
The method is based on the RICS Professional Guidance, Global Sustainability and valuation of commercial real estate.
Verder lezen
Contactinformatie