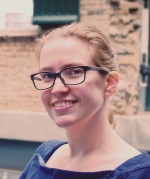 Esther Ruijgvoorn
Persoonlijk profiel
Esther Ruijgvoorn is the program manager for the Green BuildInvest Initiative (GBI). GBI is the Dutch partner of the Horizon 2020
Consortium BUILDINTEREST. GBI exist as a knowledge platform focusing on the barriers and solutions in regard to investments,
driven by the stakeholders and experts on this topic. GBI is also involved in a facilitating role in several projects with relating topics
like valuation of energy efficient measures and sustainable certification.
Verder lezen
Interesses
Doelgroepen
Contactinformatie